Faculty development opportunities are offered that help bring new media technologies into the classroom. The Studio and DoIT sponsor a series of Digital Storytelling workshops that bring together faculty from many disciplines to learn new techniques and share ideas.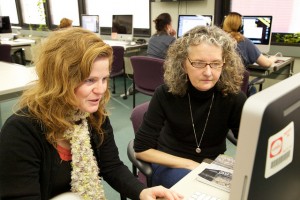 In addition to training faculty in digital storytelling, the NMS acts as a hub for a dynamic community of practice. The Studio supports faculty using digital storytelling and visual assignments in a number of ways:
Digital Storytelling Interest Group meeting twice yearly to discuss support issues and share ideas
"Digital Stories @ UMBC" website showcasing projects from the classroom and the UMBC community featuring a story gallery, upcoming events, news and an extensive resource section
A listserv connecting a community of over 175 subscribers
Consultation with faculty on classroom applications of digital storytelling and development of grant proposals
Presentations and publications highlighting the work of UMBC's community of practice
Digital Stories @ UMBC  a gallery of digital story work and resources supporting UMBC's community of practice.
"Stories in Our Classrooms: A Faculty Community of Practice as an Agent of Change" in EDUCAUSE Gamechangers