Maryland M.D.s Making a Difference (MD3) Video Series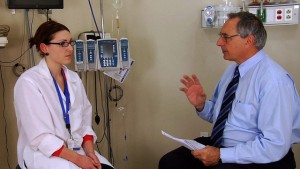 The New Media Studio has completed production on a series of 20 training videos for the University of Maryland Medical School's MD3 program. MD3 (Maryland M.D.s Making a Difference) is an innovative and comprehensive medical residency training curriculum for Screening, Brief Intervention, Referral, and Treatment (SBIRT) for individuals who misuse, abuse, or are dependent on substances including illegal drugs, prescription medication, alcohol, and nicotine. Through this program, SBIRT training and procedures are integrated into participating primary care residency programs at the University of Maryland Medical Center (UMMC), including Emergency Medicine, Family Medicine, Internal Medicine, Ob/Gyn, Pediatrics, and Psychiatry, encompassing approximately 500 residents.
This series of videos is being used to train residents in the program. MD3 training videos demonstrating screening, brief intervention, and referral to treatment are utilized to clarify the process and technique for each component of SBIRT. These training videos are used in online modules, during lectures, or viewed online for further practice. You can view the video series here.